Hello Smoothie fans!! My name is Susan and I come from a little piece of the internet called The Great Balancing Act. It's where I blog daily about my attempts on leading a balanced life, from becoming a certified personal trainer, to eating heaps of homemade baked goods ;)
Back in September '09, I joined a gym at a cost of $11 a week. In order to make up for this additional cost, I decided to stop buying protein bars at the store and instead make them more cheaply at home.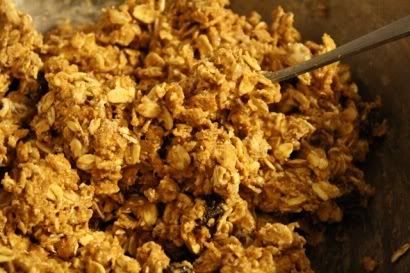 What followed were months of trial and error experiments to create a bar that both tasted great and had the nutritionals I was after.
Shown here are my homemade no-bake oatmeal protein bars. I have done many flavour variations with this, but the base recipe is as follows:
2 cups rolled oats
4 scoops (120g) whey protein powder
4-6 tbsp nut butter
cinnamon, cocoa powder, nuts, dried fruit, chocolate chips, etc.
1/2 – 3/4 cup liquid (such as water, milk, applesauce, baby food, jam, mashed banana, pudding cup)
All you need to do is mix together your oats, protein powder and nut butter, then slowly add your liquid. Stirstirstir until the protein powder is barely dissolved. Always err on the side of caution, adding slightly less liquid than you want to. A crumbly protein bar is better than a gooey one.
Cover a square baking pan with saran wrap, then press the mix into the pan. Let settle in the fridge, then cut into 8 bars.
The above bar is one of my favourite flavour combos – Apple Cinnamon. Made with peanut butter, applesauce, cinnamon and raisins. The stats are 210 calories, 9g fat, 4g fibre, 23g carbs, 16g protein.
I've also made:
These bars need to be kept either refrigerated or frozen. They're delicious, but I wanted to create something that would also be stable at room temperature.
Enter: the baked protein bar!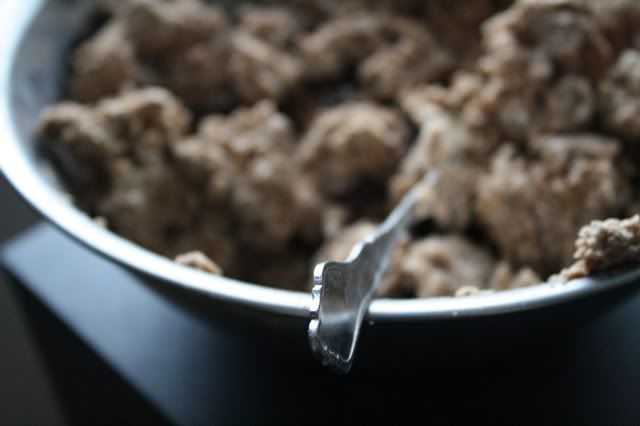 These are pretty close to the no-bake version. The biggest difference is that I use soy protein powder. It bakes a million times better than whey powder. Whey has a tendency to get hard and squeaky when heated, soy will just make it a little more dense and crumbly.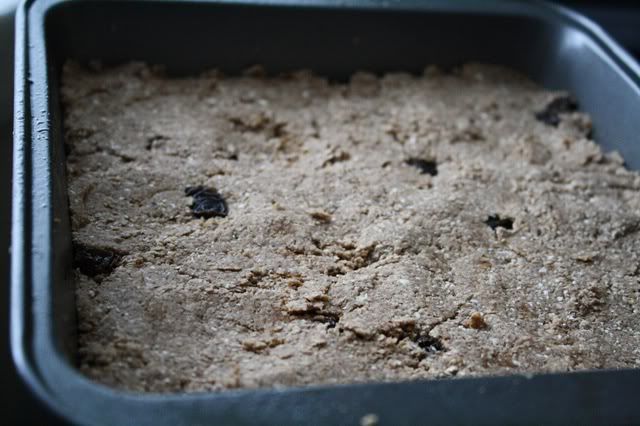 Maple Cinnamon Oat Bran Protein Bars:
2 cups oat bran (I like Quaker)
1 cup unflavoured soy protein powder (or vanilla flavoured)
1.5 tbsp cinnamon
1/2 tbsp pumpkin pie spice
4 packets stevia
1/2 tbsp maple extract
1/4 cup sugar-free maple syrup (you can also leave out the extract and use 1/4 cup pure maple syrup instead)
1/4 cup egg whites
4 tbsp almond butter (I like crunchy!!)
1/4 cup raisins
1/2 to 3/4 cup water
Mix it all up until the powder is just dissolved, but mix is still crumbly . Flatten into a 9×9 pan and bake at 350F for 15 minutes.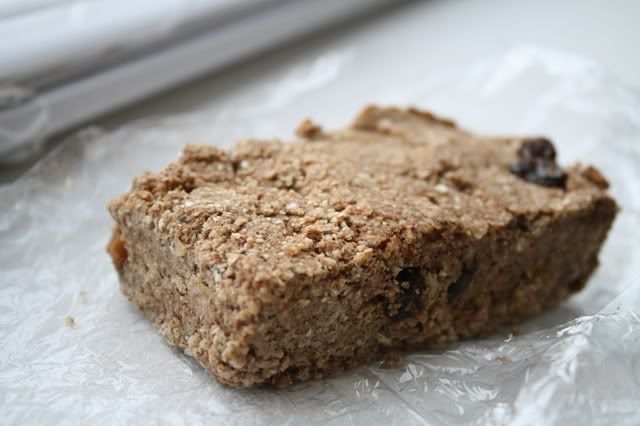 These have a great texture, and best of all, are filling too! The stats are: 212 calories, 6g fat, 26g carbs, 7g fibre, 4g sugar, 16g protein.
Again, makes 8 decent-sized bars. If only I had Deb's iPhone for a comparison shot ;)

Well those are my adventures in protein bar making. I know Deb would probably want to lighten them up a little with some puffed cereal of some sort ;) Thank you to Deb for letting me stop by and share my kitchen experiments. Hope you're having a blast on that trip Smoothie Girl!!